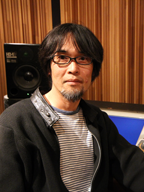 Koichiro Narita (born September 8, 1967)
He started playing the guitar in his junior high school student days, and performed in various bands. In 1992 he belonged to Surge Studio in Hayama and learned post-production and mastering surrounded in its substantial equipment. Before long he acquired the skill as a recording engineer as well.
Since becoming independent he has devoted himself to the work of Studio Light Stuff. In the middle of working with various genre--rock, ska, jazz, classical, and Japanese style music, somehow he became a popular engineer in the indie punk rock music scene.
Narita, having the face as a guitarist, is a tool enthusiast who everyone knows, as in his declaring "I can tell the tone of the equipment and instrument at a glance." Besides being a engineer for recording, mastering, and sound producing, he participates in lots of sessions as a musician as well.