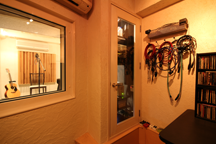 In 1988 Studio Light Stuff was born in Shonan from a group of musical buddies, and started as a professional studio for musical production in 1992. From analog to digital, and to Pro Tools in 1997, our equipment shifted with the times, and Studio Light Stuff became the present studio fully redesigned in 2006.
We have been working on a lot of music projects and using our skill in various scenes: recording, mixing, mastering, artist producing, composing, and arranging, having outstanding knowledge and skill from the long experiences.
On this opportunity, please get your songs mastered by Studio Light Stuff online.
We have a lot of friends in the world through this online mastering.
Argentina, Azerbaijan, Belarus, Belgium, Brazil, Bulgaria, Canada, China, Colombia, Croatia, Czech Republic, Denmark, Egypt, Estonia, Finland, France, Georgia, Germany, Ghana, Greece, Hungary, India, Indonesia, Israel, Italy, Japan, Kazakhstan, Latvia, Lebanon, Lithuania, Malaysia, Mexico, Moldova, Morocco, Netherlands, Nigeria, Norway, Oman, Peru, Philippines, Poland, Portugal, Romania, Russia, Serbia, Slovakia, Slovenia, South Africa, South Korea, Spain, Sweden, Switzerland, Taiwan, Thailand, Turkey, Ukraine, United Arab Emirates, United Kingdom, United States, Venezuela
We have been in great demand in the music industry for around two decades.
Main Clients: Avex Entertainment, Century Records, Disk Union, Electronic Arts, Hakuhodo, Japan Broadcasting System, Japan Television Music, Namco, Pioneer LDC, Sony Music Entertainment, Tokuma Japan Communications
Studio Light Stuff 

15-1-B1 Minami-fujisawa, Fujisawa, Kanagawa 251-0055, Japan