Only Studio Light Stuff receives files you send. Clicking

in Rates/Ordering, the following page is shown by another window.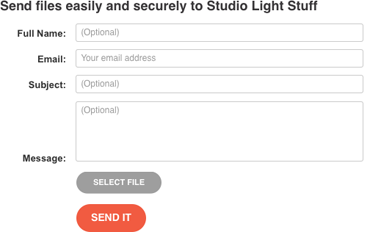 1. Enter your email address to Email and choose your file from SELECT FILE. When sending more than one, choose files in the dialog box at the same time or add files by reclicking SELECT FILE.
2. Send from SEND IT. Do not close the window until the uploading is done.

3. The right screen is shown after uploading. When having additional files, send by the same way from SEND ANOTHER FILE.
4. The sending confirmation mail is delivered to your email address. Confirm the files you sent.